Prince Fielder Likely Done in MLB
"No."
That's the only word I could muster when I heard this news.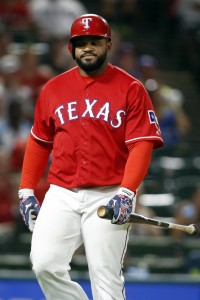 Per MLBTradeRumors
, Texas Ranger 1B/DH Prince Fielder has announced he will not continue his playing career after undergoing neck surgery a few weeks back. He didn't say the "R-word," but it's pretty much accepted at this point. The 32-year-old leaves the game with over three hundred home runs and an .282 career average. Now, I say "no" because, as a fan, Fielder was one of my favorite players. It's selfish, I'll admit. But, you sometimes don't want to see your favorites leave the game, even if it's best that they do (
see my Daniel Bryan tribute for another example
). He was this hulking Black dude who was cranking out home runs and won me over with his ethic.
So, will he be a HOFer? Eh, perhaps. He's got some damn good numbers, but I don't know if they're going to be full-on HOF worthy. But, just off the strength of his best years, he should be in there. No doubt about that. But, truth be told, he's got similar numbers to his dad (who isn't in the HOF, even though he should have at least got a couple sniffs at the HOF, but I'm biased).
Screw all the formalities, though. Fielder was a great player and will be remembered as a leader in the game in several ways. He should be remembered as a great of his era. He will be remembered as a legend in a lot of ways, such as his stance, the fear opposing pitchers felt when he stepped to the plate, his two Home Run Derby wins, the fact that he
and
his father had respective 50 HR seasons, the fact that he and his father hit the
same amount of homers over their career
(eerie), and so on. The man was and is legit.
I don't think this is the end of Fielder outright, though. I don't know if he'll play again, but I feel he'll be brought on as a hitting coach by someone (possibly Texas at the minor league level). Who knows? But, I don't feel this is the last we'll see of Prince Semien Fielder.