Should We Be Worried?: Three Thoughts on the Ravens, Pre-Oakland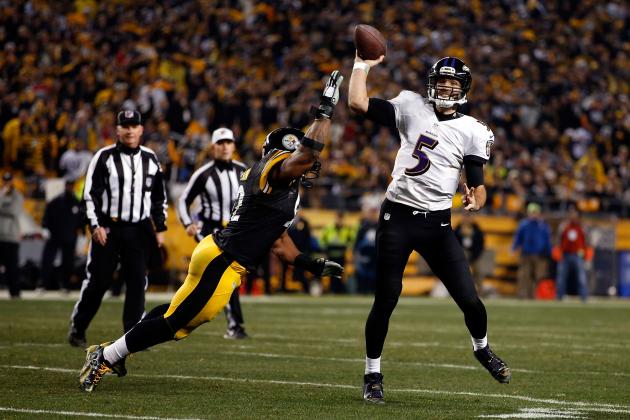 Photo Credit: BleacherReport.com
The Oakland Raiders of today suck. Sorry, Oakland fans. I mean no disrespect, but it's true. Since the season they went to the Super Bowl, they've not had a winning season. And every year, Oakland fans'll get their hopes up. Every year, there's a new chosen player who's supposed to help restore the team to the days of Madden, Marcus Allen, and even Jon Gruden (yes, I'm aware that Gruden coached the Buccaneers in the Pirate Bowl). And every year, there's the same ol' BS. So, when they line up on Sunday to play against the Ravens, not much seems that pressed to change. Here are three things Ravens Nation, however, should look for in preparation for Sunday's game.
The Raiders Suck, But They're Not Bad -- If that doesn't make sense, stick with me. The team itself has been craptastic recently. But, they also play in a division which features Alex Smith, Peyton Manning, and that Phillip Rivers guy who still manages to make plays appear out of thin air. Suffice to say, they're outmatched. But, there are elements of this team that could--and are--good. For instance, their defensive coordinator, Ken Norton, Jr. If you have no idea who he is, for shame. But, he was one of the greatest linebackers of all-time and has transitioned to a pretty solid defensive coordinator.

The Ravens' Offense Still Has Unanswered Questions -- Last week, neither Denver nor Baltimore managed an offensive touchdown and Joe Flacco threw two picks. Now, I'm the guy who'll always go to bat for Flacco, since he's proven he deserves that "Joe Cool" nickname. However, the rest of the offense--mainly his receiving corps--has to do a better job of getting--and staying open. Additionally, penalties must be kept to a minimum.

Expect Steve Smith, Sr. Expect him like you expect the Holy Father to return -- Steve Smith, Sr. doesn't take losing well. That's all I'm going to say about that. So, expect him to have a pretty decent game--possibly even more so if the Ravens can't get anyone else open downfield. Until Breshad Perriman can suit up (sources are saying sometime in October is the goal) and Justin Forsett regains his 2014 footing, Steve Smith, Sr. will have to be one of the main focal points of this offense.