True God Speaks: Part One
Now, readers of SpeedontheBeat.com will know that True is like a brother to me. So, when he came to me suggesting we do a follow-up to his
Pursuing Happiness
interview, I told him "yes," on one condition: We don't call it a follow-up to that Q&A. This interview has been split up into two parts, with part one (today) dealing with feedback on
PH
, his daughter, and True's women problems. Part two (releasing tomorrow) deals with True's thoughts on Ferguson, MO, the Eric Garner situation, and whether or not True God is either a racist or a troll.
Yeah, we're going there.
SOTB: So how is the feedback for
PH
been?
(Ed. Note: If you haven't heard it, check it out.)
TG: Great. I have heard it called a classic. "A great album." "Solid." "One of the best albums this year." If you've followed my catalog, I've heard people say it's my best work thus far. I think once it reaches more people, it'll be appreciated as a classic.
SOTB: How have the sales been?
TG: Sales have been good. But, I want more—obviously. I take pride in being able to sell my music and actually have listeners buy it. It's a great feeling.
SOTB: What do you think is keeping people interested, or inversely put off, by PH?
TG: I think the sound and changing events are what keep people interested. The music is so relevant—with the revolution occurring and world events—that it draws people in. People who are put off by it might just not be checking for my brand of hip hop. I have my own lane and that isn't for everyone. I'm aware of that. All I can do is keep making the music that resonates with me.
SOTB: Like last month or so, you and I were talking about this girl Alexes?
TG: Who?
(laughs)
SOTB: I take it things have gone south?
TG: I mean, she's a beautiful girl. I just think we weren't meant to work out. She's a smart girl, with a lot of good qualities as a person. But that didn't translate well into a relationship. On "Rejuvenated", I referenced her, and even said if it didn't work out, that I'd still have hip hop, which I do. I saw what it was from early on, as I've discussed with those around me, but my selfish nature didn't want to accept it. I should have let her go early on but I didn't and thought it'd work out for a decent amount of time, which it didn't.
SOTB: Damn, seems like y'all aren't even as close anymore?
TG: No. We aren't.
TG: It's crazy because things were going well and then some shit happened. I'm a man of respect. At the end of the day, I know she's not ready for a real relationship. She might not realize it, but everything I've said about her and
to
her has been proven true. I think our bond grew too fast over the circumstances. Both dealing with tragedies and other issues, it's like we sought each other out. I think when she figures things out and grows a little bit, she'll be able to make a man happy. However, she's a prime example of those popular females on Twitter who don't match up completely with how they portray themselves online. I wish her luck in the future though.
SOTB: So, what, are you back on your pump 'em and dump 'em?
TG: Somewhat. I don't want to be. I'd like a relationship but I know what I want. Until I find it, I'll just enjoy myself.
SOTB: Being on that sort of thing, you think it affects your parenting?
TG: No, I separate all that. My parenting is not an issue at all, nor will it be affected by my thought process on my dating, or lack thereof.
SOTB: Speaking of parenting, or "Co-Parenting," the hell's going on between you and Erica? It seems like I've seen you two in my timeline kind of sparring more than usual.
TG: Without speaking too much on it, it's been an issue for the last month or two that wasn't my doing. I think she's bitter to an extent. But I wish her the best in life. I think she goes looking for drama, but if I throw a shot or a joke, it's a light hearted way to poke fun at the embarrassment that comes with the mother of your child becoming a meme.
SOTB: True enough. I remember when someone dropped her flick on XVideos (Ed. Note: No, I will not post a link). It kind of went viral, with a lot of mixed reactions.
TG: But, I keep my private shit just that—private. I said it on the album that I believe she's misguided, but I
do
want to be cordial. She mentioned a lot of wild shit that caught me by surprise, a good amount of which was false, but I do wish her the best. However, she's not going to keep me from my child. That's not happening.
SOTB: So what are you going to do about all that?
TG: Well, I'm not going to reveal much, but it's only one way to go about it at this point: legally. I'd rather us as parents and adults work this out together, but reasoning with her seems to be lost at this point. Women
(laughs)
.
SOTB: So, remember the Teanna Trump interview right? Did she ever show "what dat mouf do," since she seemed to be on that "I'll come and blow all y'all" tip on the show?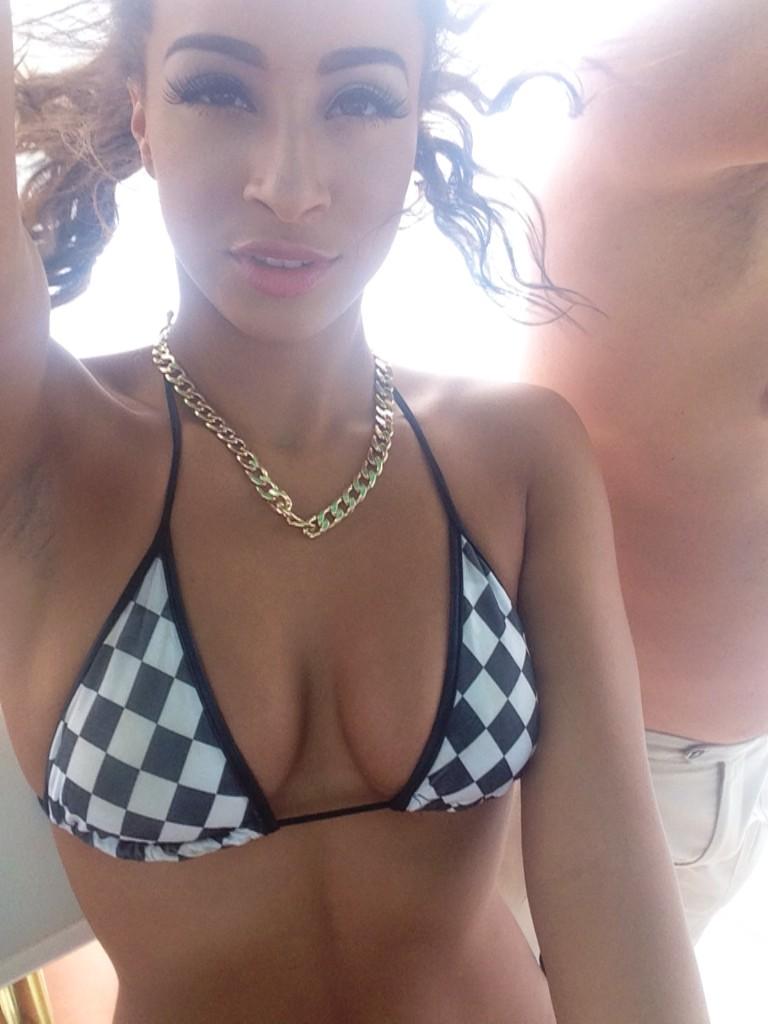 Adult film star Teanna Trump in one of her
more safe-for-work selfies
(Photo Credit: @TeannaTrump)
TG: Ha! Nope. She talked a good game for the interview. She was definitely saying she was about that—on and off the record, but I took at it as just playful radio banter. She did exchange numbers with me, which she probably does with 80% of the people she encounters. I wouldn't have been against using her mouth or fucking her (laughs), but you know...
SOTB: DAR isn't going into the porn business yet? But, did she at least send you, like, a video or something?
TG: Yeah, she did—a video of her giving head. It was interesting that she did. But when she was in town, she sort of was on a bluff tip.
She did hit us up but communication got lost at some point with meeting up.
SOTB: You and her still talk?
TG: Not much. I did reach out again, she said she might be back in town early 2015. Who knows what will happen then.
SOTB: A'ight, last chick question: what happened with you and the chick in NC? Rachel or something like that? The chick from the "Beauty is She" outro. I ask because earlier this year, there was controversy around it.
TG: You know...nothing really happened. We built a great friendship over the last year. There was controversy and crazy things going on at the time but it's just a friendship. I think it's better that way. A relationship or serious dating wasn't in the cards. She's a beautiful girl and I've watched her rise to become an actual wrestler, which is crazy because when I met her, she was just a simple fan of the product. I'm proud of her.
SOTB: Did all that have an effect on your standing with like wrestlers and shit?
TG: Yes. Once the controversy hit, things changed. Rumors spread, people started saying shit, and I learned what it meant to have an incident in the wrestling business. It is what it is. I'll be back someday to contribute to professional wrestling organizations. Until then, we grow our own brand, Eyes on the Ring.
STAY TUNED FOR PART TWO OF TRUE GOD SPEAKS TOMORROW ONLY ON SPEEDONTHEBEAT.COM