A Q&A with Banks of TRUTH Outfitters
When people think about Baltimore, they tend to think about the O's, crabs, Natty Boh, Baltimore Club Music, and
The Wire
. While those are all great things, that, of course, isn't all the city is known for. Baltimore, in some ways, is also a burgeoning mecca for young leaders, both in the political and non-political senses of the word. Today, I got a chance to catch up with [Alex] Banks of TRUTH Outfitters, an upstart clothing brand sprung from the mind of the fast-rising--but still humble--Baltimore native (yes, "TRUTH" is in all caps. Don't forget it). As with True and Apollo, Banks and I also went to school together. See, great minds
do
think alike. Read more after the jump.
SOTB: Can you give a bit more background of who you are? I don't want to go into detail—and then make an ass out of myself because I missed a detail
(laughs)
.
Banks: Hey I'm Banks, owner, founder and main designer of TRUTH Outfitters. I'm 26 and I hail from West Baltimore.
SOTB: How'd you get started in, like, designing and art?
Banks:
Well I guess art was 1
st
. You know most kids draw in art class and doodle in their notebooks or any other blank surface they can find, I noticed this was an area I excelled in a little more than other students. Though there were some that were better than me, I was better than most. My dad always had us sketching and designing different things in the house and he always challenged my sister and me to be creative so that's how it started.
SOTB: So, when was the first time you said to yourself "self, I want to make a brand for myself?"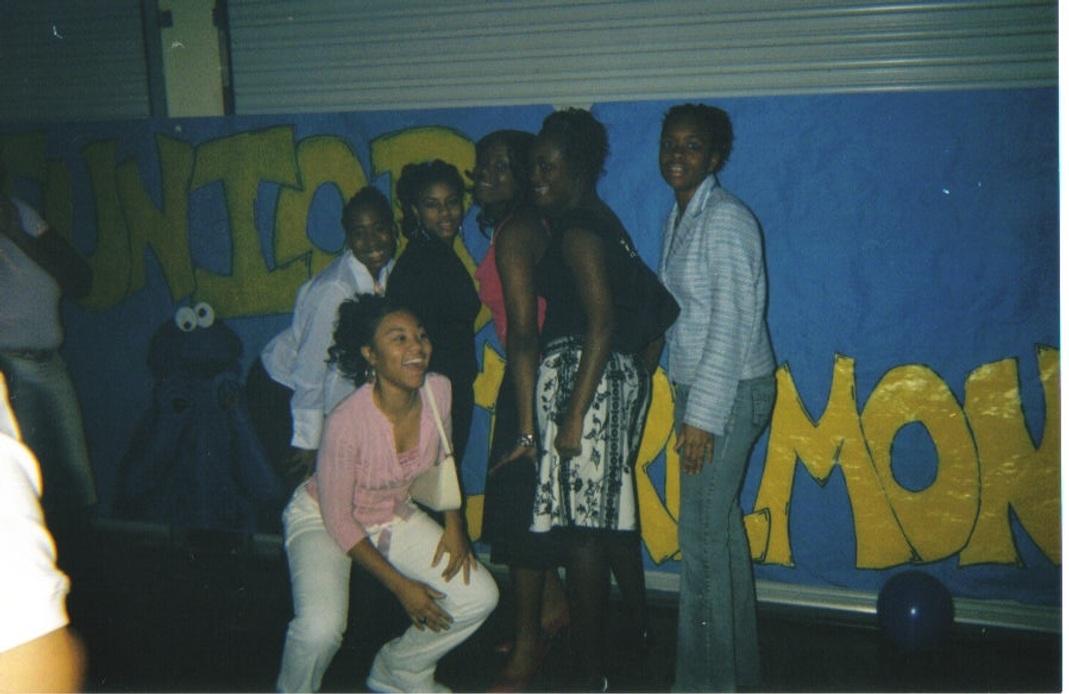 Banks and Carey took Cookie Monster and made him cool(er).
That takes talent. (Photo circa 2004)
Banks:
Well, while selling customized t-shirts at City, most designs were of cartoon characters & things like that--which if someone duplicated, I couldn't complain because it wasn't my original concept to begin with.
(Ed. Note: around this time, Banks also did some great work for Baltimore City College's Ring Dance with fellow City alum and Baltimore-based artist Davon Carey, designing the entrance/picture banner to the right)
So, I thought to myself around the age of 15, 16 "I need something of my own that, no matter what, is synonymous with me and I'll always get paid for."
SOTB: How did the name TRUTH Outfitters come about?
Banks:
Well while brainstorming what my line should be called, I asked myself the question, "What's a name that could represent me, while I simultaneously represent it?" Within that minute, I believe, the word "TRUTH" flashed in my mind. I guess this shows how highly I think of myself (laughs)

. I wasn't familiar with the concept of 'infinite intelligence' at that time...but I give God all the credit for the TRUTH hunch I got 10 years ago.
SOTB: What was the first piece you did? I mean, I've been seeing your work for, shoot, probably since our Roland Park days.
Banks:
Well "piece," as far as clothing, was in 9
th
grade. I used poster board & cut out the name "Alex" and glued it to a Polo-style shirt. I got that technique from Davon Carey. But, that was when I first used clothing as a medium, I believe.
SOTB: How were things those first couple years? Was it hard getting traction for the brand?
Banks:
The beginning years were rougher than I think I knew at the time. Since I was a teen and there were so many other trivial concerns that I had, I didn't stress that my brand wasn't the hottest thing poppin' at the time. It was kinda just something for me, and if someone else wanted to wear it? Cool.
SOTB: Oh yeah. I mean, that's just, like, teenager nature to an extent.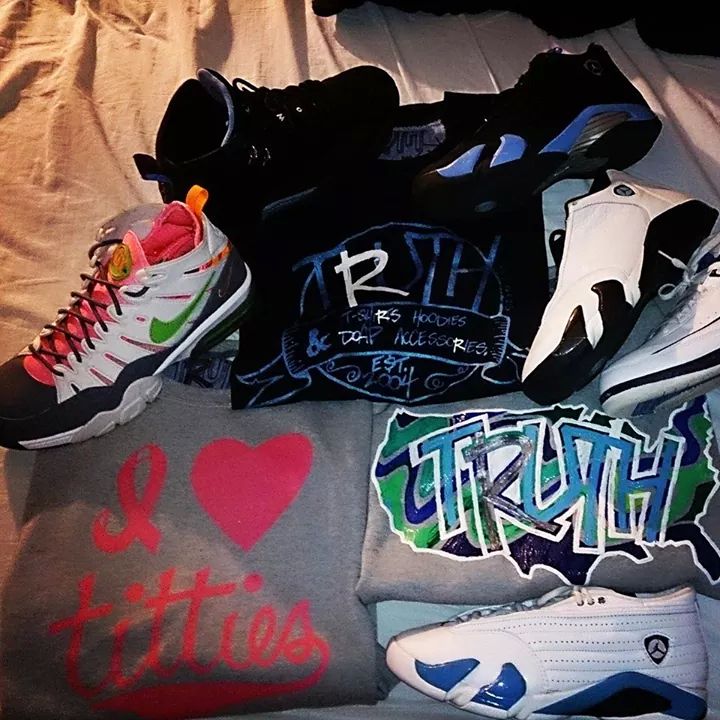 Banks: When you're 16 it's easy to say "yeah, I'm gonna sell clothes worldwide, and do this and do that." But I don't know if any 16-year-old would actually believe this. Well, over the years as customers started to increase, I realized that I could really REALLY do something with this brand. With that realization--and some other life events I was going through--I was given a reality check. I began to apply myself more with TRUTH. That was probably around '08 and I haven't looked back since. Still haven't sold clothing to other countries yet, but I have numerous people overseas who inquire.
SOTB: Who were some of the people who aided you and the team in getting things off the ground?
Banks:
Tiffany Maynor was the first
person who believed in TRUTH back when we were 16. Without her boosting my confidence, I may not have stuck with it. My dad--who is my business mentor--also helped me vision things past a couple shirts. Davon Carey believed in it. He was my 1
st
business partner with clothes so I valued his opinion. Progress was very gradual over these past 10 years though so I'm not sure of the moment where I considered things "off the ground" if it even is yet (laughs).
SOTB: True enough. And Tiffany is a pretty motivational person. Wasn't as close with her in high school, but whenever she spoke, I heeded her advice. So, how many people are on the team now?
Banks:
Well, there is a core: three people plus myself who deal with TRUTH operations on a day-to-day basis, Tiffany Maynor still being one of them. The others are Ken & B. Outside of that, there are at least 10 other people who are "on the team." One of which is my high schools friend 'Macer.' We call ourselves the TRUTH Boyz...it's a fraternity now
(laughs)
. It's…a family.
SOTB: What would you say is your greatest achievement?
Banks:
I couldn't pick one really, because whatever is the biggest achievement at the time? We always seem to outdo as we grow and it's slightly less gratifying because we expect to do great things now. But, my biggest achievement as a whole is being a 26-year-old black business owner for ten years whose creations matter in the realm of fashion.
SOTB: How far has TRUTH reached as of right now—and how far do you want it to grow?
Banks:
TRUTH has sold clothing to over 200 people in Baltimore. We've shipped merchandise to 16 states (and D.C.), including Alaska. We are sold currently in one boutique. We want to grow to be global and basically be a conglomerate. There aren't many restrictions we have for ourselves other than those that are just preferences of the vision.
SOTB: What are some of the principles you pride yourself on, artistically or otherwise?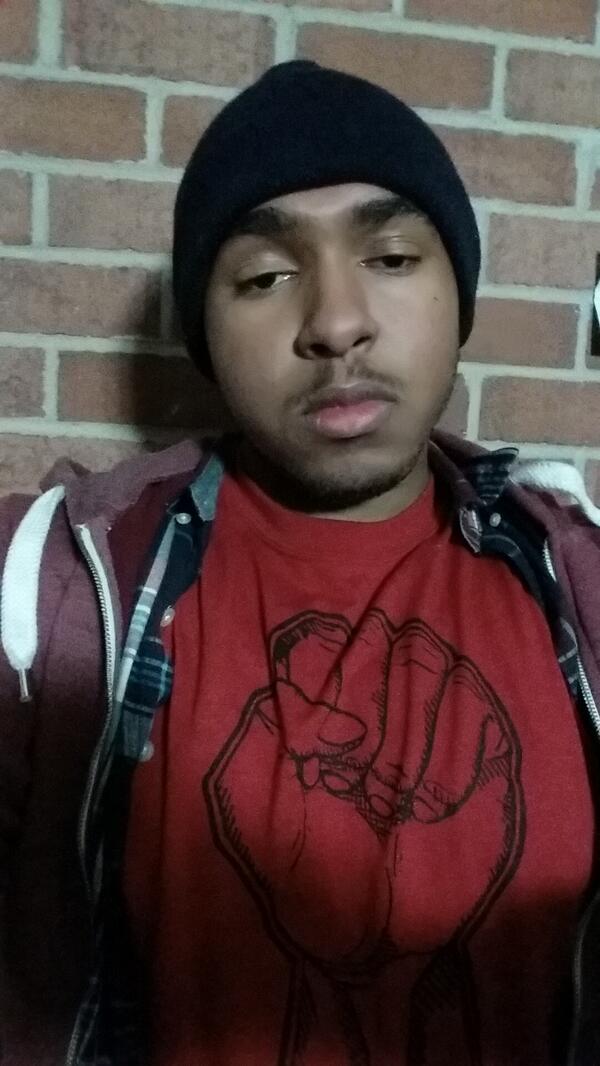 Copped this one from Banks
in January '14. So I'm not
just talking it. Sorry for the
not-so-sober look.
Banks:
Well, TRUTH to me, and my team is more of a beacon of morals and principles than just a t-shirt line. We lean heavily on the institution of family, the art of hustling, entrepreneurship, honesty, following one's dreams, art, and unity. Visually, most of our designs are aimed to look like you could easily see it spray painted on the side of a building. It's largely urban in that way. Some of our designs are influenced heavily by typography but the urban-abstract designs we produce are the main jam.
SOTB: Where can people get their hands on some of your apparel?
Banks:
Well, since this
is
still a small business, a lot of our orders are still through call, text, and social network inboxes. But, we sell apparel at
www.shopTRUTHOutfitters.com
and also at Entropy Ink and Boutique. Our handle on all of the networks is @TRUTHOutfitters. If you want to set up an order, you can also send a text or a call over to
443-486-3153.
SOTB: Now I know you've got an anniversary coming up. Can you give the readers some details about it?
Banks:
Well, November was the actual anniversary. I don't remember the date but I know I started it in late October, early November 2004
. The event however #DecadeOfDoapness will be this Friday December 5
th
. To summarize the event, It's basically a networking and fashion event/party. There will be several demonstrations of art from portrait art, a tiny bit of spoken word, to a graffiti artist doing a live piece and models doing a scene of runway. There will be a few bloggers in the building and countless young professionals/entrepreneurs. OUTSIDE of celebrating TRUTH's 10 years in business, it's really the place to be Friday if you have a craft that's worth networking. I'm describing it as a "Doap Gala."
SOTB: Are tickets still available to come and celebrate the success of a young entrepreneur?
Banks:
Yes, tickets are still for sale, but they're getting low. We are out delivering them daily but for the people who wait, they can pay at the door or purchase on our website as well. Call/text the number above for tickets to be delivered.
SOTB: Where can people reach you and the TRUTH team online?
SOTB: Do you have any suggestions for other upstarts who want to follow your path—or want to blaze their own?
Banks:
Yes and no. Every business is different and ultimately, you have to research your market and do what feels best to you. It's a gut feeling type of thing paired with niche knowledge that you only can get by jumping out there. I probably wouldn't have been sustained this long had I listened to all the advice I'd gotten.
SOTB: I can vouch for that last bit personally. So, any last thoughts?
Banks:
WHO ELSE YOU GON RUN WIT'? THE TRUTH IS US!